DeLaval VMS™ Milking Robot
The DeLaval VMS™ Milking Robot allows each cow to be milked according to her individual needs
DeLaval VMS™ Milking Robot
The DeLaval milking robot is all about making robotic milking more personal, more accurate, more profitable. With two models in the VMS ™ series, our milking robots able to treat each farm, each farmer, each cow, even each teat individually and to help you to create a better place to be for workers, cows, you and your families. A DeLaval automated milking system with VMS™ at the centre is the result of thousands of hours of development focussed on finding ways to help dairy farmers to deliver more, better quality milk from healthier cows, without making it harder for you to have a healthy lifestyle.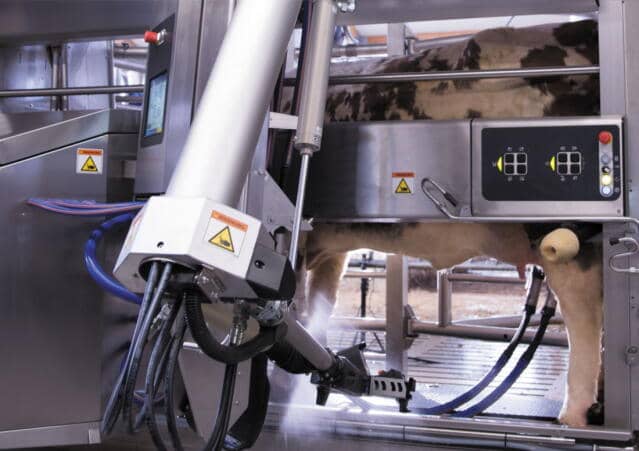 ADVANTAGES
Testspray 99% hit rate *
More than 3500kg milk per day *
10% higher capacity *
99.8% attachment rate *
Up to 50% faster attachment time *
32% improvement in insemination rate**

The DeLaval VMS series utilizes and applies technologies that have not been available before, to do things that have never been possible on a dairy farm before.
DeLaval RePro™
32% improvement in insemination rate*
Automatic pregnancy check
Detect abnormal reproduction cycles
Even detects silent heats
Notification of early abortions
More productive lactations
Fewer open cows
Reduced culling
RePro turns the ultimate milking and animal welfare system into a reproduction management tool as well. By providing a clear picture of each animal's reproductive status using DeLaval DelPro™ BioModels, progesterone levels are taken automatically in milk samples. All critical reproduction questions can be answered automatically with notifications within your DelPro Applications. All of this adds up to healthier cows, reduced vet costs, improved AI costs. Having cows become pregnant at the right time will result in more productive lactations – which means more money.
* Data from VMS V310 pilot farms.
CONTACT US FOR MORE INFORMATION
DeLaval InControl™
DeLaval InControl™ doesn't just make it easy to control and monitor your DeLaval VMS™ ; it will provide you with simple visual reports, analysis and information to help you to make better decisions. DeLaval InControl™ means you can call up the performance of a cow, see throughput statistics or change the settings of your system.
Best of all, it delivers all this functionality to you, wherever you want it. Using either the touchscreen or a mobile device, you are always able to view your VMS™, to control its operation, track daily routines, update individual cow data or share information with staff.
Quickly and easily view:
Cow queue to VMS™
Individual cow status and performance data
Find my cow in the barn or pasture
Recently milked cow info
Activity monitoring information
Somatic cell count information
Fine-tune individual cow settings
CONTACT US FOR MORE INFORMATION
DeLaval DelPro™
It isn't enough that the DeLaval VMS™ Series is our best of breed milking systems. It is essential that it is capable of forming the central hub for your entire farm, and that's where DeLaval DelPro™ comes to the fore.
We have built DelPro and its suite of sensors and applications to give you more control than we have ever given you before, by surrounding you with faster, more accurate access to valuable information, analysis and reports that will help you make better decisions on your farm.
CONTACT US FOR MORE INFORMATION
DeLaval InSight™
Smoother and faster
Two nozzles for sprays
Self learning
When you observe a DeLaval VMS in operation there are two things that strike you immediately. How calm the cows are, and how gently and smoothly the robotic arms go about the repetitive tasks of cleaning, preparing, treating, attaching and spraying.
The key technology that makes this possible is InSight. What you see is the smoothest, fastest and most accurate arm that we've ever created. Driving this performance is the interplay of our most sophisticated camera, hardware and software ever seen in a milking environment.
CONTACT US FOR MORE INFORMATION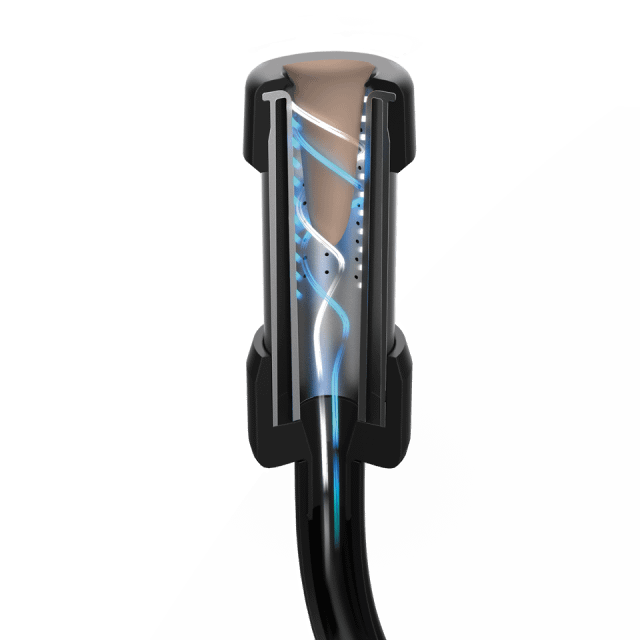 DeLaval PureFlow™
The start of the most gentle and effective milking process we've ever created.
Better hygiene
Stimulation
Adjustable settings
Transparent cup
Soaps can be added
It all starts with preparation – PureFlow doesn't just clean udders, it also prepares them. Using the exclusive transparent cup that lets you to see the action, each teat is individually cleaned and stimulated to improve let-down and productivity.
Add to this the separation of pre-milk, which is removed to a waste container via a separate line, and fully adjustable settings including the ability to add soap for enhanced cleaning, and you have the ultimate preparation. Once milking is complete, the cup is fully flushed and cleaned as part of the comprehensive cleaning routine that is automatically carried out by the VMS.
CONTACT US FOR MORE INFORMATION